The Respiratory Compromise Institute (RCI)
is an alliance of professional medical societies and interested healthcare providers that have mobilized to define the state of Respiratory Compromise and educate the medical community so that the onset of respiratory compromise can be detected to mitigate respiratory failure and arrest.
Together, we aim to elevate awareness surrounding this respiratory state and support the use of monitoring tools and treatments already available, so healthcare professionals can help reduce the incidence of Respiratory Compromise.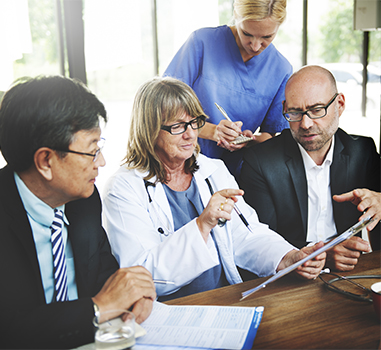 The Respiratory
Compromise Institute (RCI)
was formally constituted in the Commonwealth of Virginia in 2015 and we have obtained our 501(c)(3) tax status as a nonprofit organization.
The Institute was formalized by the National Association for Medical Direction of Respiratory Care (NAMDRC) as a follow-up to a two day multi society conference that focused on a definition of respiratory compromise, approaches to education of the medical community and the general public, and research opportunities that would assist the broad medical community to address respiratory compromise in varied settings, including the hospital, nursing homes, and the home.
The Clinical Advisory Committee is an important component of the Institute and includes representatives appointed by key medical societies. While each society retains total discretion to adopt and support varied activities of the Institute, the scope of society support clearly signals the importance of this issue.
What are the goals of the Respiratory Compromise Institute?
The institute was formed to better define respiratory compromise and explore the potential for improved solutions to reduce preventable harm and deaths. The institute is comprised of a coalition of representatives and thought leaders from multiple physician, nursing, respiratory therapist, and patient safety organizations with support from industry sources. Our objectives are to raise awareness, provide education, and encourage research of RC.
Clinical Advisory Committee Roster
Society Members:
TBD, American Association for Respiratory Care
Brent Dunworth, DNP*, American Association of Nurse Anesthetists
Thomas Fuhrman, MD*, American College of Chest Physicians
Todd Slesinger, MD, American College of Emergency Physicians
Allen Gustin, MD, American Society of Anesthesiologists
Brian Carlin, MD, American Thoracic Society
Donna Bond, RN, CCNS*, National Association of Clinical Nurse Specialists
Michael Levy, MD, National Association of EMS Physicians
Michael Wong, JD, Physician-Patient Alliance for Health & Safety
Peter Gay, MD, Society of Anesthesia & Sleep Medicine
Jeff Vender, MD*, Society of Critical Care Medicine
Thomas Frederickson, MD, Society of Hospital Medicine
AT LARGE MEMBERS:
Sidney Braman, MD Mt. Sinai Medical Center, NYC
Gerry Criner, MD* Temple University
Neil MacIntyre, MD Duke University
Barry Make, MD* National Jewish Hospital
Tim Morris, MD* University of California/San Diego
*Denotes member of RCI Board of Directors