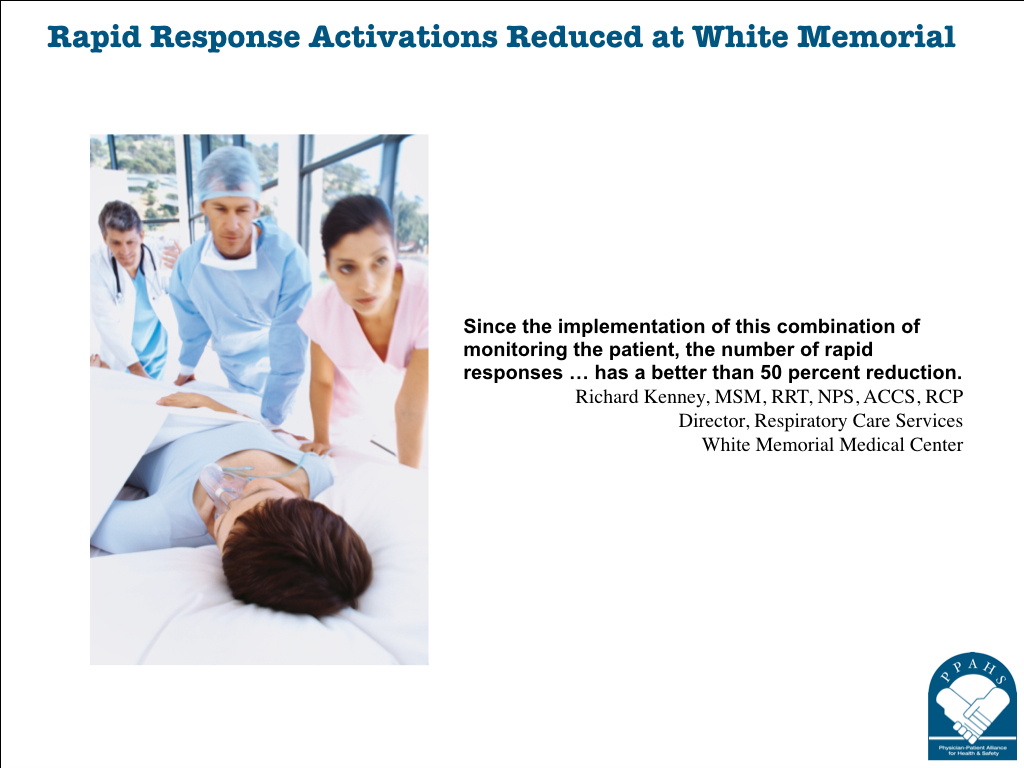 by Michael Wong, JD (Executive Director, Physician-Patient Alliance for Health & Safety)
White Memorial Medical Center in Los Angeles has experienced a "better than fifty percent reduction in calls of rapid responses", according to Richard Kenney, MSM, RRT, NPS, ACCS, RCP (Director, Respiratory Care Services, White Memorial Medical Center).
To better understand what Adventist Health hospitals have done to reduce rapid response calls and improve patient safety and health outcomes, the Physician-Patient Alliance for Health & Safety (PPAHS) interviewed Mr. Kenney.
In this interview titled, "Avoiding Respiratory Depression During Conscious Sedation", Mr. Kenney says using capnography monitoring has reduced rapid response calls by more than 50%.
The combination of using both capnography and pulse oximetry monitoring has delivered a huge win-win for Mr. Kenney's hospital and for patient safety. As he describes:
The combination of the two allows us to cover, if you will, our bases, meaning that we can monitor the respiratory rate, the heart rate and cases of the pulse oximetry it gives us a better reading knowing that their profusion status is good. What I think is even better today than just a few years ago, is that the end tidal CO2 device and the pulse oximetry were two separate machines that took up a lot of space on the patient's bedside table with long cables running all over the place but, with today's devices that we're currently using have the pulse oximetry and the end tidal CO2 in one device. They have a built in algorithm rhythms that will let the respiratory therapist or the nurse taking care of that patient, give them the advantage of knowing that something is starting to happen with this patient because these two parameters are not matching in a way that they should, and you need to come in and evaluate your patient. And so because of that, we can intervene much quicker for patient safety than we did in the past; so the combination of being able to monitor both oxygen and ventilatory status is a win-win for the patient.
The result has been a significant reduction in rapid response calls:
since the implementation of this combination of monitoring the patient, the number of rapid responses to those areas where the patient comes out with that PCA pump have – I want to say – a better than fifty percent reduction in calls of rapid responses.
In the interview, Mr. Kenney offered 5 keys to avoiding respiratory depression during conscious sedation:
Recognize that Each Patient Reacts Differently to Opioid Dosages
Don't Rely Upon Pulse Oximeter Monitoring
Monitoring with Capnography Provides a More Accurate Assessment of Patient's Ventilatory Status
Ensure that Nursing and Respiratory Therapists are Working as a Team
Using Capnography Monitoring has Reduced Rapid Response Calls by More Than 50%
To view the complete interview with Mr. Kenney, this can be done either:
To read a transcript of the interview, please click here.