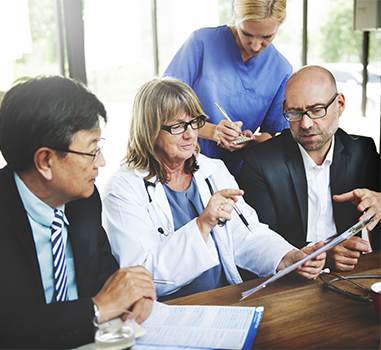 The Respiratory
Compromise Institute (RCI)
was formally constituted in the Commonwealth of Virginia in 2015 and we have obtained our 501(c)(3) tax status as a nonprofit organization.
The Institute was formalized by the National Association for Medical Direction of Respiratory Care (NAMDRC) as a follow-up to a two day multi society conference that focused on a definition of respiratory compromise, approaches to education of the medical community and the general public, and research opportunities that would assist the broad medical community to address respiratory compromise in varied settings, including the hospital, nursing homes, and the home.
The Clinical Advisory Committee is an important component of the Institute and includes representatives appointed by key medical societies. While each society retains total discretion to adopt and support varied activities of the Institute, the scope of society support clearly signals the importance of this issue.
Clinical Advisory Committee Roster
Society Members:
Tim Myers, RRT, American Association for Respiratory Care
Brent Dunworth, DNP, American Association of Nurse Anesthetists
Todd Slesinger, MD, American College of Emergency Physicians
Allen Gustin, MD, American Society of Anesthesiologists
Patricia Finn, MD, American Thoracic Society
Adam Buettner, RRT, Canadian Society of Respiratory Therapists
Thomas Fuhrman, MD, CHEST/American College of Chest Physicians
Tim Morris, MD, National Association for Medical Direction of Respiratory Care
Donna Bond, RN, CCNS, National Association of Clinical Nurse Specialists
Michael Levy, MD, National Association of EMS Physicians
Carl Haas, MLS, RRT-ACCS, National Board for Respiratory Care
Michael Wong, JD, Physician-Patient Alliance for Health & Safety
Peter Gay, MD, Society of Anesthesia & Sleep Medicine
Jeff Vender, MD, Society of Critical Care Medicine
Thomas Frederickson, MD, Society of Hospital Medicine
INDIVIDUAL MEMBERS:
Sid Braman, MD
Gerry Criner, MD
Barry Make, MD
Neil MacIntyre, MD
Steve Nathan, MD
Our Partners
Platinum
Gold