ECRI Institute recently released the 2016 Top 10 Patient Safety Concerns for Healthcare Organizations.
Of ECRI's top 10 patient safety concerns, inadequate monitoring for respiratory depression has the greatest likelihood of preventable harm. This occurs when the patient receives opioids and is not monitored effectively and sufficiently. ECRI says that inadequate monitoring for respiratory depression in patients receiving opioids poses the greatest risk to patients and assigned it a risk map of 80: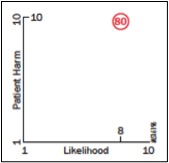 In order to improve clinical understanding of how patient harm from opioids may be reduced, Lynn Razzano, (RN, MSN, ONCC) and Michael Wong, JD of the Physician-Patient Alliance for Health & Safety (PPAHS) had a discussion with ECRI's Patient Safety Analyst, Stephanie Uses, PharmD, MJ, JD.
To read a copy of the article on the interview and the 5 keys to reducing harms from opioids, please click here.
To listen to the entire discussion on YouTube, please click here.